2022-10-11
News
Camping tips
Camping guide
Longing for a camping trip? Here`s a few movie recommendations to ease your anticipation
Taking on a slightly different tone than our usual blogs, we thought you might want some inspiration to motivate yourself for your upcoming camping travel. Camping has been a strong plot motivator for a number of movies nowadays, and Hollywood will find no shortage of thematic in a way to satisfy everyone`s tastes. Without further ado here is some movies that are either centred around or heavily involved with camping:
1) WILD 2014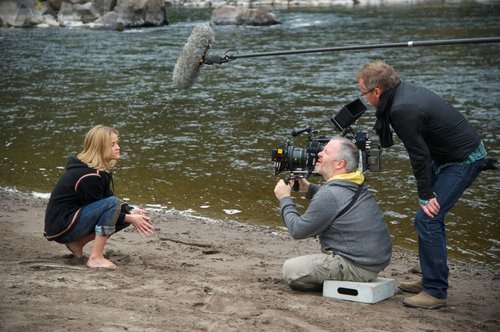 Drama: **** | Camping: **** | Comedy: ***
Starring the Academy Awards winner Reese Witherspoon, Wild is our first and likely most notorious entry on the list. The plot follows the recently divorced Cheryl Strayed that undergoes a grand journey of healing and self-discovery by deciding to cross the Pacific Crest Trail, a long distance hiking trail in Sierra Nevada mountain ranges despite having no experience in hiking or camping beforehand. Even though she had numerous issues as beginners would be expected to have, she meets people willing to help her on her journey and also receives a lot of support encouraging her to finish what she set out to do.
A truly inspirational tale serving as both, an illustration of how beautiful a trip in nature can be, but also highlighting how dangerous it can be to go unprepared. If you have never heard of this movie and are an avid fan of camping, give it a try even if the drama genre does not appeal to you, chances are, you will enjoy it.
2) Into the Wild 2007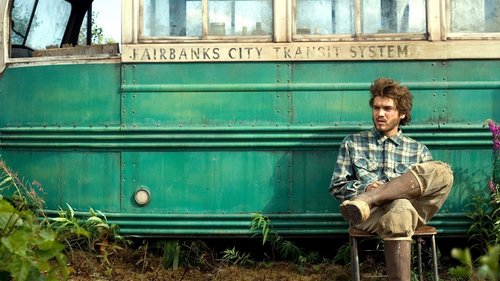 Camping: **** | Drama: ***** | Comedy: *
Based on Jon Krakauer`s Into the Wild this movie adaptation is an apt example of what a camping movie should look like. This movie is not simply for those who don't feel like reading the book, in fact if you have read it, we encourage you all the more to watch this movie to see how it was envisioned by the highly acclaimed director Sean Penn and executed by Emile Hirsch.
The incredible scenery of the North American forests & rivers, combined with masterful screenplay are sure to leave you no less than shocked with amazement, all while understanding the true meaning behind the main character`s motivations. Renouncing one`s possessions and returning to nature is a long wished for but rarely granted desire of any human being, especially after enduring the stress of daily urban interaction for years on end, being enamoured with earthly possessions and our responsibilities often leads us to stray off of the path leading to freedom and satisfaction.
3) Wet Hot American Summer 2001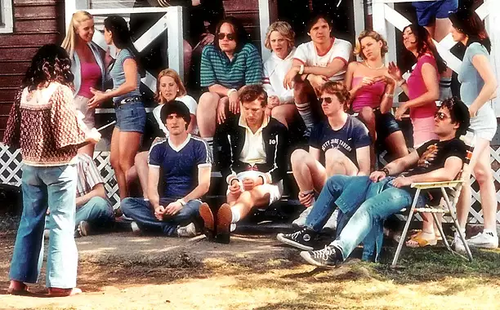 Camping: *** | Drama: * | Comedy: ***
Taking a bit of a detour from heavy topics, this movie might not be suitable for all audiences. In a classic teenage comedy drama fashion much like the American Pie, Wet Hot American Summer has a lot of immature and more often than not, eye rolling humour. It is still a comedy however, so it`s bound to tickle the funny bone of everyone at least once or twice. Disregarding the teenage drama aspect of the movie, it showcases a typical setting of a community camp in America through the lenses of director David Wain, just at the break of the new millennium set in the beautiful landscape next to Waterville, Maine. It was actually based on the producer`s own experiences while attending a Jewish camp in Belgrade and despite being both, a critical and commercial failure, it never fell short in regards of displaying how fun a camping trip can be.
The movie was largely gone unnoticed until it accumulated an avid fanbase and even prompted Netflix to make an eight-episode prequel series, so if you can endure a non-zero number of sexual innuendos, this movie is a solid recommendation.
4) We`re the Millers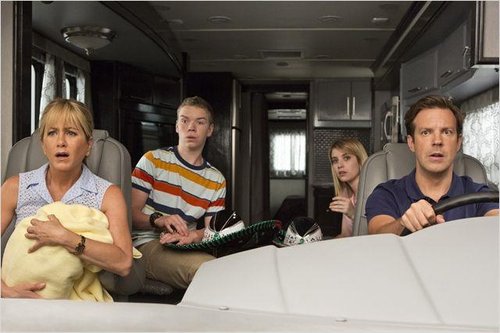 Camping: *** | Drama: *** | Comedy: ****
Chances are you`ve seen "We`re the Millers" on TV during its long lifespan, but never given it much thought. Like our previous entry, it`s also a comedy, albeit a more mature one and substantially more popular. This movie is far detached from the reality of camping, and there is exactly where it should stay. Honestly, even if you were offered a once in a lifetime opportunity to earn a 100.000$ by smuggling drugs into Mexico with a stripper, your neighbour and a petty thief posing as your family, we cannot advise you enough how poor of a decision that would be. However, if you simply want to relax and enjoy watching someone else struggling with their bad choices, then this movie is a definite recommendation.
If you are an RV camper you might relate to some issues the main characters of this move are facing like a blown-up motorhome gas casket or flat tire, and if you're not this might give you some good insight into what entails camping in an RV, in any case be sure to give this movie a try, it will not disappoint.
5) The Great Outdoors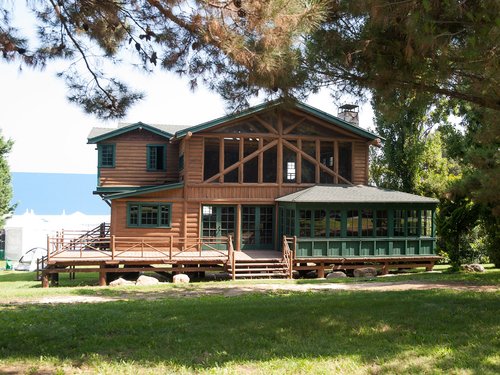 Camping: *** | Drama: ** | Comedy: ****
Directed in the 1988 by Howard Deutch, the Great Outdoors tells the tale of two incompatible families trying to make the most of their vacation in a lake resort but who are met with increasingly disastrous events threatening to ruin their peaceful vacation in the heart of nature.
This movie was filmed on the idyllic Bass Lake in California, and while the main cast is mostly met with unperceivable misfortune like leeches, thieving racoons and violent ursine, it is safe to say that on a regular unscripted visit to the lake would be far less eventful, even relaxing. In between the adventurous mishaps of the characters, you will be met with incredible sceneries of the still lake, mirroring the surrounding forest, with gargantuan mountains extending endlessly into the distance.
Such sights alone are enough to draw out anyone`s desire to visit their nearest nature reserve for a couple of days, and while it isn`t guaranteed to be everybody s preferred cup of tea, The Great Outdoors`s somewhat dated but timeless humour might even make you laugh while enjoying the sights.
6) The Ritual
Camping: **** | Drama: **** | Comedy: *
A relatively new entry, and one unlike any previous ones, the Ritual is in fact a horror movie not unlike the famous Wicker Man. While yes, this movie might leave you terrified of the thought that you might find a tribal coven of witches in the woods underneath a blotted-out sky, harbouring a creature of unspeakable terror amid the unexplored vast Swedish wildlands, there is also the silver lining in the more realistic sense of appreciating the incredible panoramic views seen from the movie`s shots atop some of Sweden`s tallest mountains. The atmosphere of mystery that the movie is able to capture, while the main cast of travelling buddies traverses the uncharted territory within this seemingly enchanted tall forest is both suspenseful and intriguing.
There is a number of similar films that could take this movie`s spot as the generic horror story while on a camping trip like "The Cabin in the Woods" to name one, but none capture the accurate atmosphere quite like this one, appreciating the culture and being respectful towards it while also instilling the sense of dread expected from a genuine high budget horror movie.
As stated previously, the Ritual is not a movie that will exactly motivate you to go camping, however it might prove to be a worthwhile watch even if you dislike scary movies, if nothing else, to serve as a word of warning for what not to do when visiting cursed forests.
7) Deliverance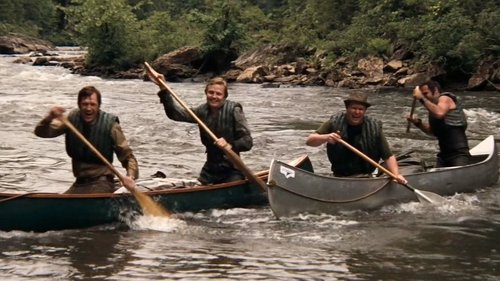 Camping: *** | Drama: **** | Comedy: *
Deliverance is a movie adaptation of James Dickey`s novel with the same title. The movie is not suitable for all audiences as it is classified as "survival thriller", some of its themes are very adult and on occasion, the scenes are downright gruesome. However, that is not to take away from the fact that when the movie debuted, it was critically acclaimed and earned a total of eight nominations.
It tells a story of four businessmen from Atlanta hellbent on canoeing The Cahulawassee River in Georgia before it`s dammed and transformed into a lake. Lewis, being an experienced adventurer takes his group of novice friends to the countryside in preparation of the trip where they are ridiculed and regarded as city boys, especially Bobby and Drew who act patronizingly towards the locals.
Aside from the iconic musical introduction with "Dueling Banjos" and the highly controversial scene that gave birth to the phrase "squeal like a pig", Deliverance is a rollercoaster that offers a lot of character depth accompanied by well thought out plot and setting that will leave you craving for more.
In truth, there is a lot more movies that involve camping than these, but we tried to reduce that number to movies that either focus heavily on camping or where camping is the primary component behind the narrative and serves as a drive to set things into motion. While the theme of camping is abundant, especially in American movies, there are rarely movies that are directly centred around camping, and it wouldn`t hurt to get more, seeing as all the recent additions were predominantly box office successes, while also not suffering the requirements of a ridiculously large budget unlike their competitors.