2022-04-01
News
Camping tips
Camping guide
We know (and understand) all of you adventure seekers who are searching for more than just a bed or a camping spot for your tent. If adventure and experience are your primary travel motivation, we bring you one of a kind camping locations across Europe! Just in case you've missed the first part of our list start reading it now -> Peculiar & unique campsites across Europe
1) Enchanted Village
Set in Alton towers theme park in the UK, this campsite is a collection of cottages true to the name Enchanted Village. All are fashioned according to woodland log cabins as to not stray from the general theme. The most inviting fact about this camp is not that it is situated inside the Alton towers theme park, it is that all of the amenities included fit the narrative. If you are visiting with children, it is important to note how in this way nothing breaks the immersion in the fantasy, even the amazing sanitary block and restaurant are designed accordingly.
The package when booking this stay includes a full English breakfast buffet, access to evening events, a round of their themed Golf course and lastly free Car parking.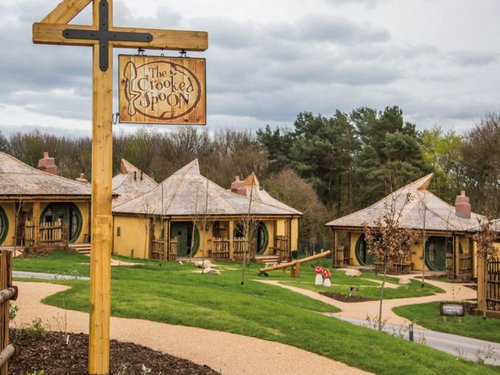 Photo by: Alton Towers Holidays
2) Waldseilgarten Höllschlucht
Are you afraid of heights? Then you might want to skip this entry. Not to say that Waldseilgarten Höllschlucht doesn`t have regular pitches, but its peculiarity lies with the so called "hanging tents" where guests camp in a tent suspended mid-air, hanging either from a cliff or a tree.
Not advisable for the faint hearted, but for those who like to feel the adrenalin rush this is definitely a camping you will remember, the view is breath-taking and the scenery even more so. Not to mention that once done admiring the surroundings, you have a seemingly infinite array of activities to do on site starting from their famous adventure park and zipline all the way to the bow and arrow practice range.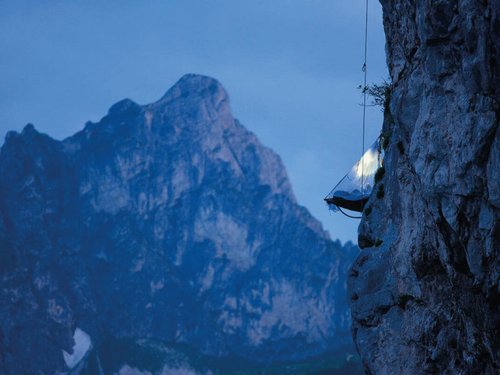 Photo by: Waldseilgarten Höllschlucht
3) Camp Lahntal
Camp Lahntal or Outdoor Zentrum Lahntal is a camp in Greifenstein, Germany and for the most part it seems unremarkable, but that is by no means true. While it does have regular pitches for all types of guests, the thing by which this campsite is distinguished, is most certainly the inclusion of the appealing Hobbit house and Hobbit mini castle.
Starting with the Hobbit house, it is clearly visible how the name came to be. Inspired by the literature of J.R.R. Tolkien and following the cinematographic success of the movie adaptations of The Lord of the Rings and The Hobbit, we have seen a worldwide increase in replicas of this type, however with Camp Lahntal it is clear that they spared no expense in providing their utmost when decorating their one of a kind glamping houses.
The king sized bedroom has to be one of the best features of the Hobbit house. With two great glass panel walls providing an amazing look into the forest, it invites you to gaze upon nature's beauty at a striking distance.
An unheard of architectural feat in the world of Middle earth, well excluding Dwarven architecture at least. The Hobbit sized Hobbit castle is definitely a sight to behold, with the option to either sleep in a bed in the castle keep or the adjacent house, this facility is equipped with everything you would need, a pellet stove, a small kitchen, an ensuite bathroom and it even has a barbecue area with a swivel grill in the courtyard, safe to say you will not find it wanting.
Photos: Outdoor Zentrum Lahntal
4) Kampeervlot / Camping Raft
Camping Raft is a collection of camps based in Netherlands and Belgium that provides accommodation floating on water. Located in De Heen - Noord-Brabant and in Marnemoende - Utrecht in the Netherlands and in De Wissen – Limburg in Belgium.
The idea as they claim dates back to the 1990's, and although the raft houses are too difficult to navigate through still waters themselves, their ingenuity led them to the decision of installing a permanent berth to each of the houses and provide the guests with Canadian canoes as a means of transport over the water.
The feeling of waking to the view of a marble like still and pure lake reflecting the sky above is an experience rarely matched, ideal for those who seek to cleanse their minds and recuperate in the midst of the tame nature and silent surroundings.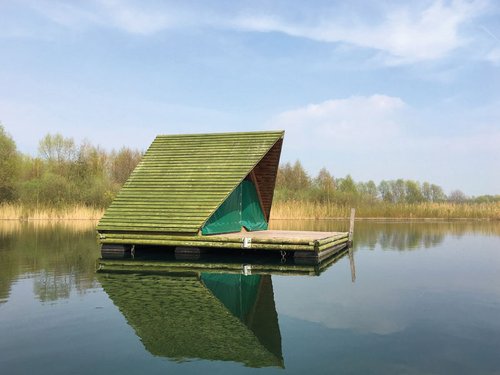 Photo by: Camping raft
5) Accommodations Comfort Camping Burgstaller
What Salvador Dali did for the world of art, Camp Burgstaller in Döbriach, Austria did for the Sanitary facilities of Campsites.
Each of their facilities is uniquely designed by world class architects. It was an intricate and very detailed project that wouldn`t have been completed unless the owners were any less than ambitious. Luckily, they were, and that is why today you can behold the marvel that is this campsite in its full splendour, featuring for example a reception with a drive through, an extraordinary children`s play room with video game booths, a theatre and a cinema. The camp has access to an excellent lake with a perfect beach, its grassy pitches are kept in mint condition and it has a long list of facilities, events and activities ensuring you would never find yourself bored.
But the cream of the crop lies definitely with sanitary buildings. The insides of one sanitary decorated with plastic bamboo stalks giving the impression of being in a jungle, also a full sized Jeep stuck in the ceiling. An entire Pirate ship that can be climbed in another sanitary block. The remaining sanitary facilities however have a 1:1 model of a rusty boat stuck in the building! Complete with sprinklers making it seem as if it were causing a leak, which in reality is just a fountain. It even has a road train that passes through the camp showcasing its best.
Let`s not forget that this campsite is not part of any theme park, it`s a one off that became its very own theme park with the bold decisions, investment and creativity of the owners.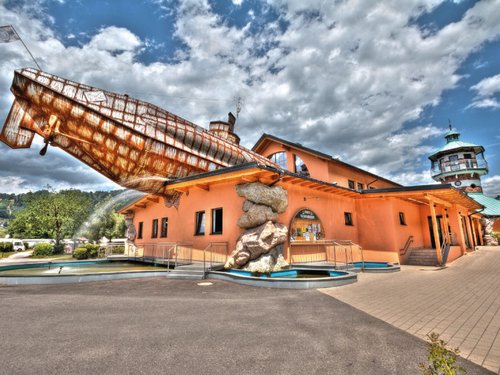 Photo by: Camp Burgstaller
6) Blackberry Wood
If you have never felt the need to suddenly sleep in a 1965 navy Wessex Search and Rescue helicopter while exploring the southern coast of England, have you ever truly wanted to camp? How about the inside of a 1964 Routemaster London double-decker Bus? No? Well, we can`t blame you really.
Located in West Sussex, UK, among other seemingly unrelated and unconventional facilities Blackberry wood camp offers such a unique experience that it will leave a lifelong imprint on you and amaze others as you tell the tale. Ironically enough the camp offers an astounding, very quiet, luscious, beautiful pitch site but it never seems brought up due to the fact that it also offers the possibility to sleep in either the Higgledy Tree House with twisted stairs or a gypsy caravan maybe. We challenge you to try another type of quirky accommodation at this campsite.
Photos by: Blackberry wood camp
In conclusion:
Be adventurous and take a risk when choosing a place to camp. Camping needs to be fun and there are a lot of creative camp owners with powerful imagination who are pushing the boundaries of "traditional" camping and who want their guests to immerse themselves in the fantasy and bring an exceptional memories with them when they leave.