2022-11-28
News
Camping tips
Camping guide
It is no surprise that camping is booming all across Europe, given the fact it has copious amount of historical sightseeing value, beautiful landscapes of diverse climates from Mediterranean to Subarctic, the refined cuisine and various events for all sorts of activities from sports to music festivals.
While summer is the very image of camping, laying in the shade of a hot summer day next to the ocean breeze and sound of crashing waves, it is also indisputable that winter camping offers a revered rivalry to the idyllic counterpart.
Is this really for me?
Winter camping might seem uncomfortable, cold, or difficult for the average traveller. Camping while buried under 2 meters of snow might sound like an adventure for an average visitor, or an experience reserved for more experienced travellers, but the market and the campsites have evolved over the years. The owners want to accommodate guests who wish to visit their beautiful campsite all year around, so that they can enjoy the surrounding landscape even during the harsher days of the year.
Glamping is gaining popularity and it offers comfort with commodities to those who might find 'regular' camping too challenging or outright discomforting. In a way, renting a mobile home, room in a wine barrel, chalet or glamping tent is comparable to renting an apartment, except it`s situated somewhere in nature offering unique stays.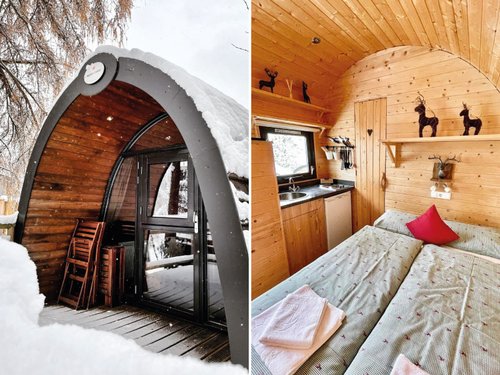 Photo by: Ferienparadies Natterer See Camping Resort
Winter in the Alps
One of the most popular destinations for winter camping in Europe are by far the Alps. Having access to some of the best-known skiing & snowboarding locations in the world, the ski slopes alone are enough to attract the larger chunk of winter tourism.
Whether you are training for the winter Olympics or skiing casually with friends, there is no shortage of entertainment, if you have ever tried this kind of sport, it is easy to understand why so many people are attracted to it and recount it as one unforgettable experience year after year. The well-maintained trails ranging from the easiest blue difficulty, which is reasonable even for children as young as 6 years old, all the way to the black runs labelled as the hardest challenge for adepts only ranging from an incline of 40% (22°) onward, an incredibly difficult undertaking.
Aside from skiers, snowboarders also frequent the very same trails with some extra attractions like ramps & grinds to perform exhibit their skills. Other activities include less prominently frequented winter sports like sledding/bobsledding, ice skating, ski jumping, mountain hiking and even snow biking.
While sports are a major motivator for people to visit these cold regions during winter, there is also the appeal to simply visit a rustic mountain village town blanketed with pure white snow and enjoy a relaxing spa while onlooking the cold ice outside. Unsurprisingly the villages tend to boom not only because of tourists visiting for the activities but also because of the high-quality local produce like the Alps milk, cheese, honey, and excellent liquor.
Aside from renting a hotel room, an apartment or a glamping unit, there are of course other ways to visit, one being to visit in an RV. Modern RVs especially, are well equipped against the cold and will offer a stay as comforting as a rental unit would except you might find difficulties in dealing with some of the common below freezing point temperatures for instance freezing windows taking absurd amounts of time to defrost impeding you from driving to the nearby store making your motorhome essentially stationary, the terrain is treacherous as well, remember to be extremely well equipped if you decide to take your motorhome to such an extreme area.
Off we go!
So, are you ready for a little winter adventure? We have some tips ready for you. The smell of cinnamon and vanilla, Christmas markets and music, sauna and winter wellbeing - now sign me in please!
Christmas magic of Innsbruck
Austria is an idyllic place to enjoy that winter fairy tale romance. Christmas markets nestled in the magical old alpine towns in between medieval houses and towers, atmospheric traditional Christmas music at every corner and sweet smells of grandma's cakes and mulled wine… We already know everyone falls in love with the snow-covered Tyrolean mountains at Christmas, so we can only recommend the place with unique to be – Ferienparadies Natterer See Camping Resort. Comfy, heated mobile homes with a towel warmer in the bathroom for all of your glamping lovers and heated private or family bathrooms for all of you who will be visiting the alps with your RV this winter.
Photo by: Ferienparadies Natterer See Camping Resort
Advent on the Adriatic coast
Spending winter on the Adriatic coast sounds tempting, especially if destination of your choice is any of the historical towns of the Istrian region. Camping Park Polidor is located near the magical town of Poreč and they have prepared some tempting offers for long-term stays. Exploring charming medieval towns, romantic walks by the sea, enjoying delicious delicacies at Christmas markets... start planning your trip now!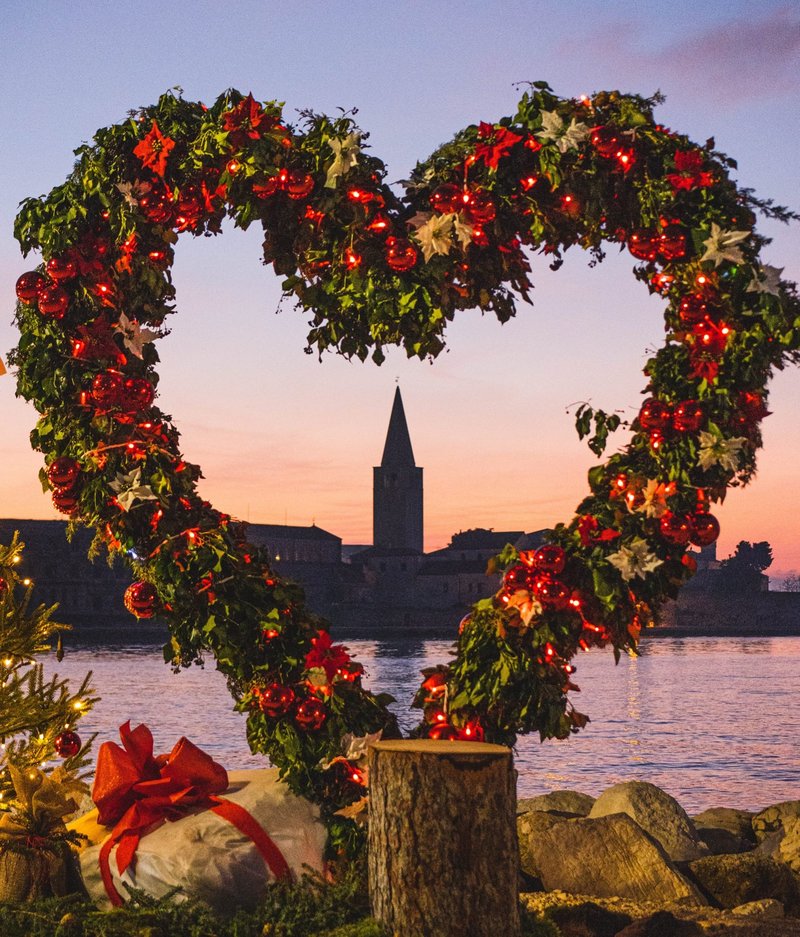 Photo by: Camping Park Polidor
Healing water in the heart of Bavaria
Water is the essence of all life, and it gives us balance and relaxation. Bad Füssing lies in the heart of the Bavarian thermal spring landscape. Take some time to relax and heal. The curative powers of the healing springs, a variety of leisure activities an Bavarian culture and food, what more do you need. Holmernhof Camping & mehr is only few minutes from the town centre and there's even a Physiotherapeutic practice directly at the campsite. Private bathrooms are spacious, and the friendly staff will gladly help with an advice witch thermal baths to visit first.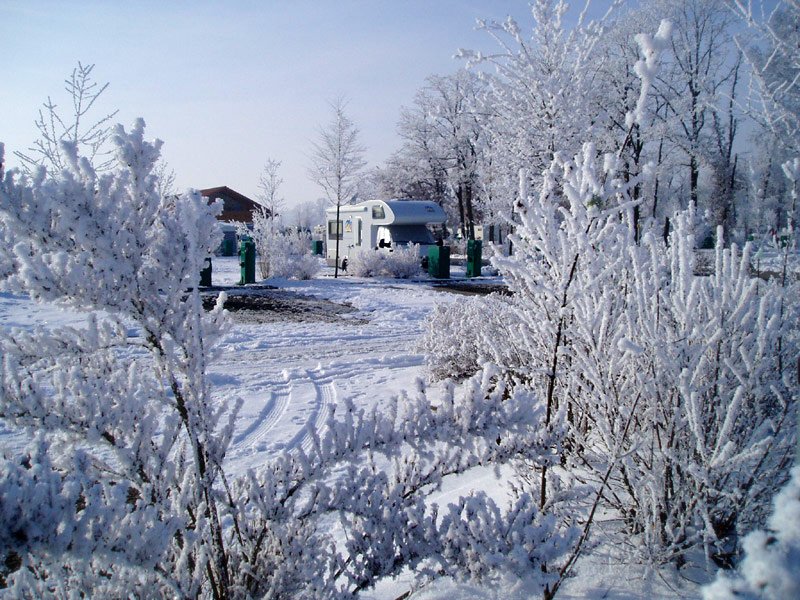 Photo by: Holmernhof Camping & mehr
While winter camping takes somewhat more preparation and precaution than summer camping, it is in fact not all that uncommon, moreover you are sure to be gleefully rewarded by a unique experience and surely you will join the likeminded people who have been doing it for years, because winter camping is simply an experience everyone should take part in at least once in their lives.