2022-01-03
Mapping
Camp management
News
Our team member Andrea has over 15 years of experience in customer support in campsites. Here are some lessons learned from her experience.
Speaking and listening are communication skills that must be mastered by all your employees who are in direct contact with guests. A satisfied guest is the best ambassador of your camp. Your guest will quickly share his satisfaction with his camper friends in various social media groups. Therefore, consider the way you communicate as a team and the communication that you personally, as well as your team have with your guests.
1. How to prepare for a problem?
Communicating in problematic situations can be demanding for you and your team. Try to prepare your team for problems that may arise. Analyse previous issues and problematic situations, record good and bad examples of how your team has resolved such situations in the past and try to learn from mistakes. In those delicate and unpleasant situations, it is extremely important to stay focused on solving the problem and talk to the guest in a calm and polite way. The more prepared we are for the situation that could arise, we will be spending less time on improvisation and thinking about ways to solve a particular problem so we will be able to focus more on controlling our own emotions and the way we treat our guests.
2. Keeping it positive
One key detail that your guests will really appreciate - try to use affirmative speech that expresses positive attitudes, even in inconvenient situations. "I don't know …", "I can't …", and similar responses do not show confidence in you as an expert for your campsite or the destination. Try to avoid telling guests that they need to do something - they don't need to do anything, it's up to them to choose whether to stay at your campsite or look for accommodation at another one.
Special tip
Read the House Rules of your camp and other warnings or signs in the camp and try to turn the bans into requests or suggestions. Try to formulate short and kind sentences that guests will be happy to read.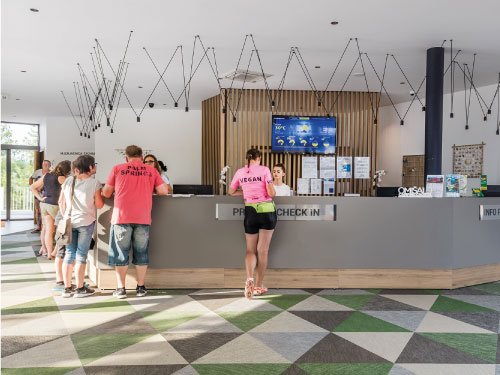 Here are some examples of how to turn negative communication into a positive one:
Here are some examples of how to turn negative and impersonal communication into a positive and polite one:
Negative: We can't do that….
Positive: We will try to do something….
Negative: I don't know
Positive: I'll check and let you know…
Negative: You have to …
Positive: It would be good if you could…
Negative: Starting sentences with NO!
Positive: YES! We will try to…
Negative: Call tomorrow, there is no one in the office at the moment….
Positive: Please leave me your contact details, we will call you back…
Negative: That's not my job…
Positive: The person in charge is …, I will call him/her so that they can help you with…
Negative: What do you want?
Positive: What can I do for you? How can I help you?
Negative: I am on my break…
Positive: I will be with happy to do this for you…
Negative: What's your name?
Positive: Would you be so kind to tell me your name please?
Negative: No, that's not true…
Positive: Yes, that's right….
Positive examples need to be practiced, and over time those will become a natural way of communication for the entire team of your campsite.
Positive examples need to be practiced, and over time those will become a natural way of communication for the entire team of your campsite.
3. Write it down!
Record Frequently Asked Questions from your guests. What the camp owner or someone at the front desk may know, doesn't necessarily mean the rest of the team is familiar with. Our suggestion is that you make sure to keep track of FAQs. Capture which of your guest's questions are repeated and prepare a short manual for colleagues at the camp, so they can quickly learn how to answer them correctly. Posting those answers on the website of your camp would be perfect! That way FAQs can help other guests prepare their visit and it would maybe even make your camp stand out.
Here are a few questions that often arise in camping:
Which places are available for … days? Are there any vacant camping spots in the first row by the sea?
Is it possible to enter the mobile home before the official check-in time? We have small children, food that needs to be stored, had a long trip...
Why can't I enter the camp by car after 23:00? (If the camp has a ban on driving at night)
Why do I have to pay for an extra tent, if it's just a small tent where the kids sleep?
Is bed linen included in mobile homes and how often are towels changed?
Can I get a photo of the pitch or the dimensions/size of the pitch before booking?
What are the payment options?
Are dogs allowed in the camp and is there a beach where dogs are allowed?
What type of barbecue can we use on our camping pitch?
What type of terrain is on the pitch?
Keep in mind that the goal is to ensure all your guests have a pleasant, worry-free vacation at the campsite. With today's technology guests' satisfaction is very important. Any feedback posted online by your guests about their stay will influence other guests to consider or avoid your campsite. Guest satisfaction guarantees future campers and returning campers for your campsite.