2021-12-14
Camp management
News
Last week we attended the Camping Congress in Terme Tuhelj. The Croatian Camping Association gathered leading people from the camping industry, who summarized the results of this season, and talked about new trends, promotion opportunities, new markets and technologies.
Here are some intakes we learned from the Congress and our partners:
Digitalization and automatization are a must
The main focus of the Croatian Congress in Terme Tuhelj this year, was the future development of the camping industry. Several panellists and presenters have pointed out how moving towards with digitalization and automatization of daily operations need to be the main focus for the campsites.
Germans love to camp
Uwe Frers from PinCamp stated how German guests are still going crazy about camping and the demand for camping vehicles continues to grow. In the past year in Germany 105.000 NEW vehicles were registered, and the total number of leisure vehicles in use rose to a new record of around 1,4 million.
German guests really like Croatian Campsites
The efforts the Croatian camps and employees in the camping industry in raising the quality of service paid off and it reflected in an extraordinary increase in demand among German guests, so Croatia is currently in 3rd place, just behind the leading camping destinations Italy and France.
Only 50% of camps have a website!
It is interesting to note that despite the high demand, only 50% of Croatian camps can be found online. It is important to be visible in the digital world and enable guests to get to know the peculiarities of a camp in the simplest possible way on a dedicated website.
Sustainable vacation planning is a thing
Climate change significantly affects the way people perceive holidays and travel. Croatia stands out with many camps with an ECO label, but with a share of only 18% there is still much room for improvement.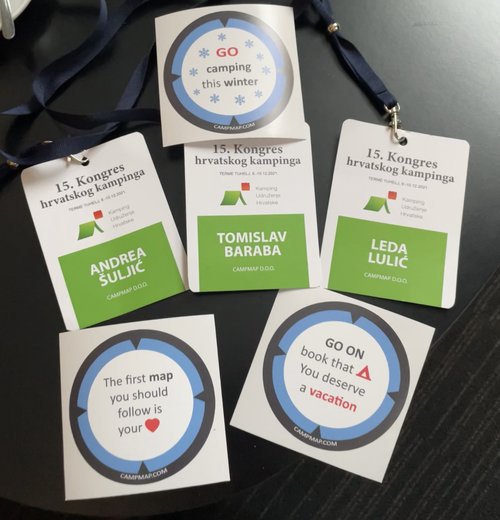 It's time to get more charging stations in your camp!
The fact that many companies in the automotive industry will exclusively produce electric vehicles by 2035 says a lot about the direction in which camps should be developing. Charging stations for electric cars should be more accessible and campsites should communicate this type of offer more strongly. "We already have electric cars on the market that can tow trailers, the first electric campers and RVs are appearing, and, especially in northern Europe, we have a strong growth in sales of electric cars." stated Ramon van Reine from ACSI.
Private bathroom on a pitch will get you a higher revenue per pitch
Adding value to a camping pitch is a new challenge for the campsites of the future. Having private sanitary facility on the camping pitch is a way to increase revenue and more and more campsites in the Netherlands are investing in several smaller private bathrooms that are located on the pitch itself.
The accessibility of your camp should be a priority
How, may you ask? Roberto Vitali from V4A - Village for All joined forces with Croatian Camping Union, and they've prepared "Accessible Camping Guidelines" for the camp owners and managers. Accessible tourism strives for equality and helps customers with disabilities and to all those who have specific needs regarding their health conditions as well as their traveling companions. A great example is that it doesn't make any sense to offer a beach holiday in an accessible village if the beach or the sea are not accessible. The publication brings practical useful information for the campsites.
We are working with the best!
At the Congress, traditionally, awards are given to the best campsites in Croatia in several categories: Croatia's Best Campsites and OK Mini camps, Slovenian award for the quality of camps Naj Camp Adria 2021 by Avtokampi.si and special award for promoting accessibility in campsites Village for all - V4A.