2022-03-18
News
Camping tips
Camping guide
If you though that camping is only limited to either camping with no amenities in a deep forest, or a luxurious caravan pitched directly next to the seaside, you could not have been further from the truth. To help you pick a most unique camping experience, in this blog we`ll bring you several Camps across Europe who are either based on a specific theme, or have very distinct architecture that sets them apart from their competitors. Please note that these campsites are not listed in any specific way.
1) Mad Hatters Campsite
This campsite just next to Cambridge in the UK is as you might have guessed an Alice in Wonderland themed camp, it is laid across a brilliant meadow shaped in form of a maze of flowers where each path leads you to one its unique amenities making the guests feel like they`re on an adventure.
Each of the facilities is labelled by a prominent figure from Alice`s world, of which they are split between campsite, timber tents and glamping cabins.
Camping pitches are situated on a well kept grassy meadow, right next to the rabbit hole with access to excellent sanitary facilities. Next to it is the mushroom themed relax area where guests can converse with one another, or make barbecue while enjoying the scenery.
There are 3 timber tents available: Timber tent Emperor, Timber tent Mad hatter & Timber tent Caterpillar. Each test is equipped with a bedding, cutlery, a table, chairs, a small stove, saucepans and more. This multicolour wooden cabin is sure to satisfy all your glamping needs, but in case you need something more, there is a glamping cabin.
The Queen of Hearts glamping cabin is a one of a kind luxury couples retreat. It is equipped with a King size bed and it can support 2 additional airbeds for the children. There is also a modern log burner that is sure to keep you warm even in the coldest of nights.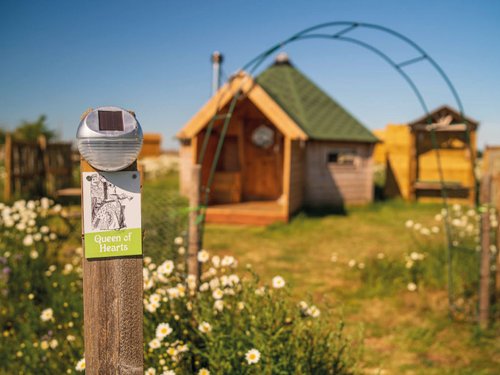 Photo by: Mad Hatters Campsite
2) Switzerland`s Whitepod Eco-Luxury Hotel
With the Whitepod Eco-Luxury Hotel`s unique glamping pod design, set on a hill overlooking the valley beneath you, feels like you are both in nature and a part of it. No matter the season, these luxurious eco-friendly chalets 1400 m above sea level provide an unmatched feeling of comfort. There are various different options to choose from when booking one of these pods.
Family pods ensures a perfect vacation for your loved ones by providing an unforgettable experience from a king size bed with a view of the Alps, supporting additional 2 children`s beds on the mezzanine, an excellent large terrace and an incredible bathroom.
Swiss Suite offers an authentic Swiss stay experience, reinforced by old wood, bells and straw with a king size barn bed. It has a real cosy cottage atmosphere, also included are a private sauna, a large ensuite bathroom, terrace and 2 extra beds.
They also offer Zen Suite, an isolated pod with a distinct Japanese atmosphere refined to meet your tastes. At the centre of the pod you can find a traditional Japanese "zen" bed, and it has an authentic Japanese "Furo" bath with a splendid view of the Alps.
If you are ready for a full luxury experience of the amazing Alps, make sure you stay are in the new Timeless Suite, where you will greeted by your own butler(!).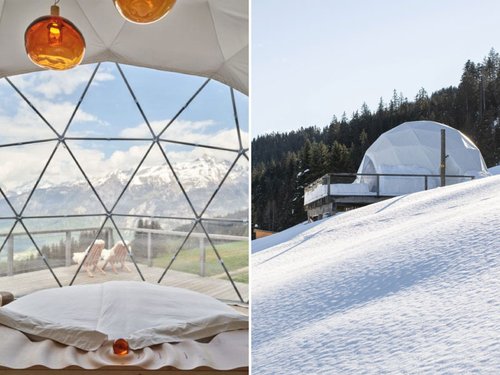 Photo by: Whitepod Hotel
3) Kamp Velebit
While we are still on the subject, it might be time to bring up the Croatian Kamp Velebit for those who are not fans of glamping and prefer to take a more traditional approach with camping. Kamp Velebit is located on a silent retreat, high up in the mountains of Velebit. The idea behind is more akin to a therapy session, withdrawing from the confines of the urban life and the stress of the hurried everyday life, here you take things easy the way Hollywood likes to envision camping, pure nature with limited access to technology.
That, however is true for many a camp, so why is this any different? Well, like how it was stated in our previous entry, following Tolkien`s success many campsites brought forth their best replicas of hobbit houses and Kamp Velebit is one of those.
This is not a picture from the movie set and that's not Peter Jackson`s chair, it`s simply a picture taken from the inside of this very authentic replica of the hobbit house. The inside of the house is just a humble pair of beds and a table but with the energetic atmosphere and traditional folklore events in the campsite. You would simply not have the time to wish for anything more anyway.
Photo by: Kamp Velebit
4) Eisenstadt Ferropolis
Ferropolis, or "The city of iron" has to be one of the more interesting takes on a campsite, while not born as an idea of camp per se, this open air museum started attracting so many guests, they decided to make room for some admirers to stay the night. So, as you might have figured from the name, this camp is located on an artificially created remote peninsula in Gräfenhainichen, Germany designed to pay homage to 20th century industrial machinery.
Admittedly, not many would find fascination in sleeping under hulking giants of rusting metal rather than sleeping under the stars near a tranquil creek, but there are definitely more than a few ascendants of Valhalla and androids sent on behalf of humanity who would find no better place in the world, than here to pay their respects to the dying breed of colossi that brought society to where we are now.
Aside from admiring these marvels of engineering, guests can partake in various yearly events that take place on the peninsula of the iron city. Like the yearly Neuseenman Triathlon, popular music concerts and festivals like Melt!, Full Force festival and Splash! Or even the famous Iron Drift King event where drivers show their drifting skills under the gaze of the towering machines.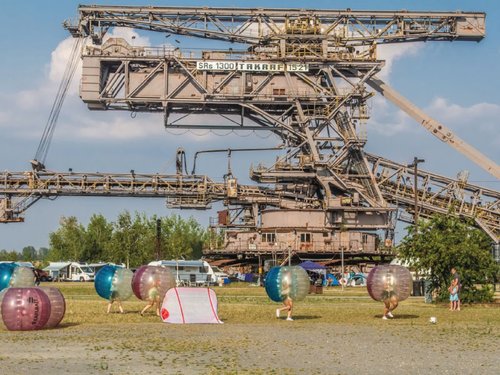 Photo by: Eisenstadt Ferropolis
5) Familienpark Sottrum
Located in Holle, Germany, Familienpark Sottrum is a family theme park equipped with a campsite which harbours lots of attractions scattered through the campsite, the guests are then prompted to discover on their own accord what secrets await. Its luxurious stay combined with amazing children friendly structures is sure to provide you with an unforgettable experience for life. From finding a model longneck dinosaur along the forest trail, all the way to crossing the river on a "makeshift" raft or even discovering the witch`s cabin in the garden is guaranteed to leave you breathless.
The secret to this camp`s appeal is hidden in its simple approach, they do not promote the content in an attempt to draw you in, they leave the decision up to you, and when you first discover something that piques your interest you become compelled to seek out more.
Other things worth mentioning are the petting zoo where guests can feed and caress animals, stunning flora that emphasizes the already beautiful surroundings.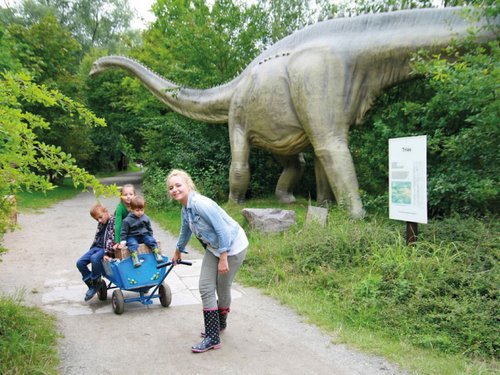 6) Knight's Village at Warwick Castle
At Knight's Village in Warwickshire, UK you will find a re-enactment of the Middle Ages. Alongside the Medieval castle Warwick, build in 1068, you can find a campsite serving as an extension to that famous attraction built in the fashion of that same time period.
Both entertaining for children, and very interesting for its history, Knight`s Village places you in the role of a villager at castle Warwick by staying at one of the many glamping options available. Lodges are offering a fully modern glamping experience with WiFi and TV so you can really feel like a modern king or queen.
If you prefer glamping tents you will be nicely surprised with the wooden flooring and amazing beds and the regal equipment such as thrones or chessboards.
For a true feeling of royalty, there are exclusive options of private tours of the Warwick Castle and the Castle Dungeon by a resident History team specialist where you can learn more of the darkest times in the Castle`s history.
In conclusion:
Camping is not necessarily restricted to spending your nights in the woods with a campfire, it can be, but when sprinkled with a little bit of magic dust, it can be a lot more fun, especially for younger campers, and to that end why not let them pick where to go. Who knows, you may find yourself enjoying your time far more than you expected you would be!