2022-01-20
Camping tips
News
Camping guide
Discovering divers and beautiful landscapes, and interesting holiday destinations paired with exciting family activities and the sharing of a family tent, RV or caravan is a perfect excuse to go camping and re-connect with your family. It's never to early to start camping with your kids, teach them how to enjoy the outdoors and awake their senses to the natural surroundings. Several members of our team enjoy camping with their kids and here are some tips they would like to share to make your next family camping trip more enjoyable.
1. Budget and planning
Do your research on time. If you are not sure what destination to visit, or which campsite to book, start with your camping friends and ask for some advice. If you want to get more ideas or details about a region or a campsite, check out different social media groups. Users often chat about their experiences and often you can get advice which camping spots are nice or which pitches to avoid. After you know what your destination is, start working on a budget. Get familiar with the distance to the campsite, road coasts, and potential interesting things you can see or visit on your way to the destination.
Planning the trip itself can be a good family bounding moment, so let your family members get involved. Take advantage of the creative side of your teenagers and let them be responsible for the soundtrack, but make sure to let them know that the whole family must be included.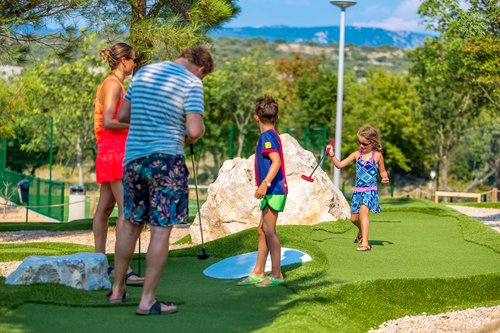 2. Book it on time!
If your kids are still in school, you will probably end up travelling in the highest season, so make sure to check for availability on time. If you have a desired campsite you would like to visit, we defenetliy recommend booking it on time(!).
Finding an optimal camping pitch may be challenging. Using CampMap Maps you can check descriptions of all camping pitches in a campsite. If you are traveling with a camper/RV or a caravan, make sure you will be having enough space to fit it on the pitch. On the maps you can check the size of the pitch and the size of the usable camping area. Check out the 360° Photos of the pitches and experience every camping place. You should also get familiar with the layout of the campsite itself and check where the shop or a sanitary block are. Some camps offer even a family bathroom you can rent.
3. Groceries and shopping
When researching the destination, you can check the local offer – a bakery, or a store, maybe a shop with camping gear; and how far are those from the campsite. Family-owned campsites often offer locally produced and fresh food. Camp Mon Perin organizes a food market where guests can get the seasonal fruits and vegetables from the garden of the camp. Guests can also visit that garden and learn more about the production of locally grown vegetables. When visiting a campsite, you should defenetliy try to taste some local delicacies. Family Mrakovčić organizes wine and olive oil tastings for their guests at the Camping Bor.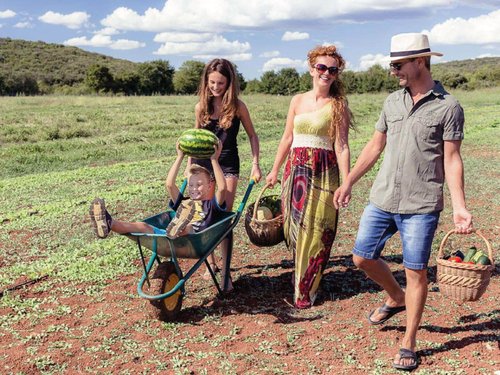 4. Fun New Skills
Need some relaxing time without your kids? Pick a campsite that offers baby sitting and a wide range of entertainment and activities for your kids. Edutainment is a thing now and a lot of programmes on the campsites include education as part of the entertainment. Campsite Kovačine has an ornithology lab where children can learn more about the local birds, while at Mon Perin you can learn more about the dinosaurs and even meet them in person. You can spend nice family time with adorable animals from the ZOO and ranch at Camping Omišalj and get an unforgettable experience which you will certainly cherish as a beautiful summer memory.
5. Beach or a swimming pool?
Pebbly, sandy, or rocky beach or a swimming pool? Family summer holiday is time to create new memories – first swimming attempts, smeared with ice cream, the incredible sunsets… If you are traveling with young children, try booking a campsite close to the beach, there are so many incredible ones down the Croatian coast. Camping Village Šimuni is one of those. There are six pebbly and sandy beaches in the camp, and two of them are even dog friendly. If you want to indulge in the charms of the glamping experience, book a glamping tent near the lake or with an amazing sea view or a mobile home with a private pool.
6. Family friendly destinations
Check what distinguishes a destination and what makes it a perfect choice for your family. Maybe there are some fun activities in the region you can plan out to visit. Try contacting the local tourist info centre to get updated hiking and cycling maps of the region. If you are feeling more adventurous, try renting a canoe or kayak and explore the lake or the coastal area, if camping by the sea. Visiting some national parks in the area will only benefit your family. It will give you and your kids a much-needed break from electronics.
Having difficulties picking a destination? Check out the TOP 10 Ideas why you should visit Croatia.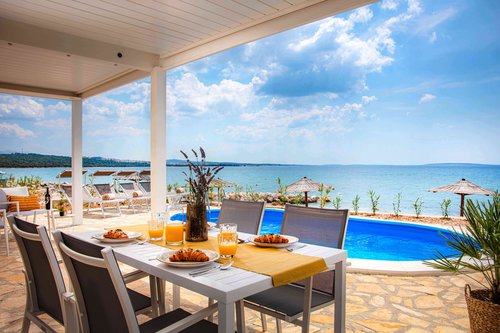 7. Sharing is caring
Involve the kids in camp chores as much as possible. Make it part of the bonding experience. Teach your kids the basics like setting up a tent or cooking a camp meal. Assign age-appropriate tasks. Younger ones can help with pumping up the pads or rolling up the sleeping bags, while the older kids can be in charge of washing the dishes.
8. Bring your dog
For a lot of families, home is where their dog is. Traveling with kids can be challenging, but having a pet is a whole new level. Make sure to check if your pet is allowed at the desired campsite before confirming any bookings and announce when booking, that you will be bringing your dog with you. Some campsites have a special area for dog owners and a lot of campsites offer a pet friendly beach on the campsite. Camping Village Poljana has even some special welcome gifts for pets and their owners. Always bring necessary traveling documentation, food, water and treats, blanket, favourite toy, and enough poop bags. Before starting the trip, take a photo of your dog (in case he/she gets missing).
9. Organisation skills
Private space is important for every family member, and everybody has their own little things that make them happy. When camping, you need to be able to "upgrade" your organizational and packing skills. Start from the basics covering the sleeping, cooking, and travelling part of the vacation. Choose only the most practical vacation clothes and make sure every family member has it's own cosy camping pillow or blanket.
Cooking essentials and snacks for the road are a must. And don't forget to take a fun family game the whole family can enjoy playing! Share the packing experience with your children and give them the responsibility to pack their own camping gear and toys.
Get a travel-friendly box and let your kids pick only two-three favourite toys they want to take. Organize everything in clear plastic bins for easier access and group things into themes like campsite gear, kitchen, clothes, toys, pet, personal items.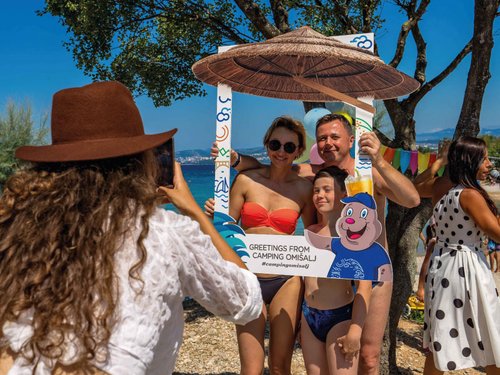 10. The more the merrier
If you have a single child, you can invite your family friends to join in on the fun and come along on the next camping adventure. If they are not "camping enthusiasts" like yourself, why not introduce them to the joy of camping by first trying out some of the mobile homes or glamping tents. Small, secluded Camp Trasorka provides such a perfect first-time experience for the "newbie-campers".
11. Safety first
When you think about vacation, issues that may arise are not your primary focus. To keep everyone safe on your next family camping trip, it is important to think about safety when packing and before heading out on the camping adventure. Create a list of important phone numbers, and don't forget to include a phone number of a local veterinarian. Keep them on your phone and put a copy in the first-aid kit. Learn how to pack a first aid kit fitted to the needs of your family and have a special place for it for easy access. Avoid bug bites by using insect repellents. If the sting still causes unpleasant itching, swelling and redness can be relieved with a cream containing antihistamines. Pack some antacid in the case of a heartburn. Pack some headlamps for every family member in the case someone needs to get up at night. Don't forget to have a camping toolkit because you never know when you might need it.
The more you camp, the more you and your family will learn what your basic needs are and what you can leave at home without even thinking about it.
Have fun on your next family camping adventure!